Email marketing has still has a greater ROI (return on investment) than any other marketing strategy. Analysis shows that email marketing provides a ROI of $ 40.56 for each dollar that's invested.
Setting up an effective email marketing campaign can be a little baffling initially, but with some practice and with the right tools and techniques it gets to be very easy. And very effective.
1. Email Marketing Campaign Software
You need special software to manage your email marketing campaigns. Known as an autoresponder, it provides an efficient way to gather, deliver, monitor and review your emails.This would be impossible to do yourself with a regular email program like Outlook, Gmail, Webmail, etc.
2. Plan Your Marketing Emails
Have a plan of action before sending out an email marketing campaign. Think about your niche, your offers and most importantly, the action that you want your readers to take. Test every email by sending it to yourself to check links, grammar and spelling carefully. Don't let your subscribers get errors, find them first. Each email should focus on one or two topics at most. Don't complicate your message by overwhelming readers with a bunch of different offers and topics in the same email.
3. Quality
Credibility is your most important resource in email marketing. If you're an affiliate marketer, only promote only those products you believe in. Your subscribers will blame you if you recommend a product for them to buy and the product turns out to be rubbish. Don't just send continuous offers to your list. Send useful free information and other freebies too. The more value you provide to your subscribers, the more they will want to open your emails when they land in their inbox.
4. Subject Line
Almost one third of email users open emails because of the subject line. Exciting subject lines boost open rates, but can be risky if they don't mirror what's presented inside. Words like, "Alert," "News," "Limited Time Offer" and "Last Chance" in subject lines significantly increase open and click through rates.
5. The Sales Funnel
On average it takes approximately 7 communications with a prospect before they make a buying decision. Email is the perfect way to send these communications. Your autoresponder software can send out a series of emails on auto-pilot when a prospect joins your list. This is your sales funnel. It's simply a set of steps where you move a prospect through a sequence of communications that ultimately results in them buying from you.
How to Run a Successful Effective Email Marketing Campaign (Step by Step)
Do know how to run a successful email marketing campaign? Wondering if your email marketing strategy is working? With around 269 billion emails sent each day, there's a lot of competition for your audience's attention.
Those email numbers keep going up, too. That's why it's essential to learn how to do email marketing right, so you can reach your target audience and keep their interest.
By the end of this guide you'll know the steps you need to run a successful email marketing campaign so you can get more attention, engagement, leads and sales.
What Is an Effective Email Marketing Campaign?
An email marketing campaign is an email sent from a business to one or more customers or prospects. A successful email marketing campaign will get the recipients to take action, engage with your business, and help you to get more leads and sales.
One of the big advantages of email marketing is that people still use email widely. In fact, as our article on why email marketing isn't dead reveals, 90% of adults and 74% of teenagers still use email regularly.
This makes email marketing the perfect tool for building customer relationships to help you generate leads and sales.
But before you run a successful email marketing campaign, you've got to do some prep work, so you're primed for success when you finally send that first email.
1. Build a Targeted Email List
The most successful email marketing campaigns start with an email list full of qualified leads that are interested in what you have to offer. The best way to build a targeted email list is to convert your website visitors into subscribers.
But did you know that on average, 80% of your website visitors will leave your site for good, without signing up to your newsletter?
That's why we recommend using exit-intent popups to convert those abandoning visitors into subscribers and customers.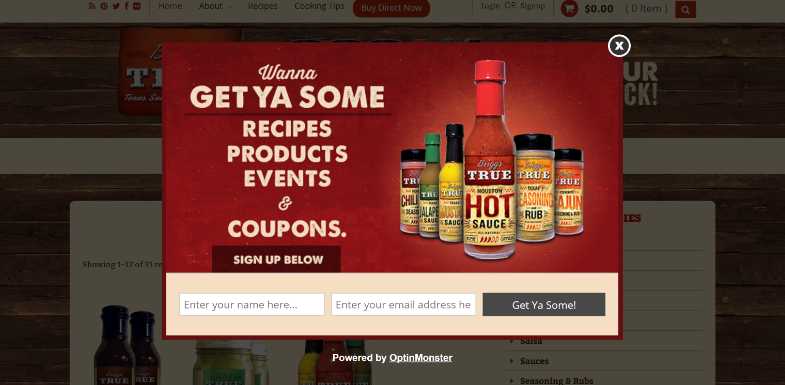 Exit-intent popups detect user behavior to prompt them with a targeted campaign at the precise moment they are about to leave your site forever. This smart technology can skyrocket your conversions.
2. Know Your Goals
All good marketing starts with setting goals, and email marketing is no different. To run a successful email marketing campaign, think about what you want to achieve. Typical goals for an email marketing campaign include:
Welcoming new subscribers and telling them about your business and values so you start to build a relationship with them.
Boosting engagement with your content and your business, whether that's promoting a webinar or trying to make an initial sale.
Nurturing existing subscribers by providing something they'll value.
Re-engaging subscribers who haven't been particularly active.
Segmenting your subscribers so you can send more targeted email marketing campaigns.
You can also set email marketing goals according to your conversion goals.
3. Understand Email Types
It's also important to understand the different types of email that you can send. People group these in different ways, but here are the three key email types.
We're all familiar with promotional emails, which talk about offers and sales and are self-promotional.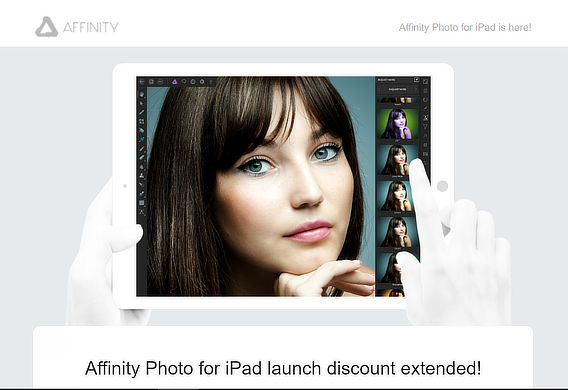 Then there are relational emails, which give subscribers what you've promised, like a weekly newsletter, a free gift, relevant information they can use, and so on.
There are also transactional emails, which include:
Subscriber signup confirmations
Welcome messages
Order or purchase confirmations
Acknowledgements of changes to subscriber information
Transactional emails are usually triggered by subscribers' actions and relate to an action they've taken on your site.
Now that you know the types of email you can send, it's time to move onto the next step to create a successful email marketing campaign.
4. Know Your Audience
If you've been doing email marketing for a while, you'll likely know who your audience is. If you're just getting started, you'll have to make some educated guesses so you can target your content. Don't worry; you'll start collecting subscriber info the minute you send your first campaign, so next time round, you'll have real data to work with.
In the meantime, gather data from Google Analytics and your social media profiles, like the Facebook Insights data shown below:

Both sources have data on demographics, location, and interests, plus a bunch of other metrics, that'll give you a snapshot of who your customers are and what they're interested in. That's a good starting point for crafting successful email marketing campaigns.
5. Use Technology Wisely
The best email marketing services have tools to help you create more successful email marketing campaigns. Look for features like:
Easy campaign creation and automation, including templates and workflows.
Integrations with software you already use, like WordPress and OptinMonster.
Ways to segment your audience.
In-depth analytics on email campaign performance.
Features like Mailchimp's automations pictured below will help you schedule transactional emails and blog-driven updates, respond quickly to customers, and create and deliver promotional and relational emails. These are all good ways to build success with email marketing.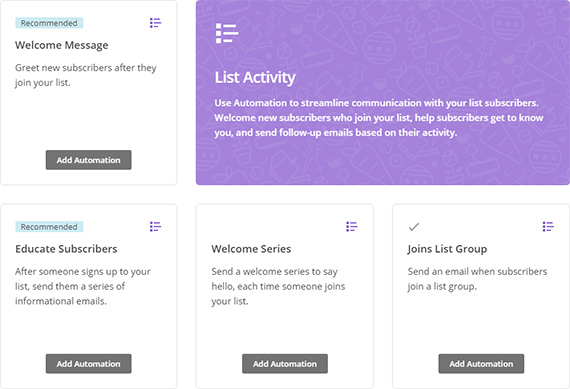 Looking for an email marketing service? Check out our top picks for Mailchimp alternatives!
6. Create Great Optins
It goes without saying that you need to get people on your email list to run a successful campaign.
To do that, you'll need to create attractive optin forms that get attention and encourage people to sign up. Experiment with different types of optin forms on different parts of your site, including:
Welcome gates, which appear when people arrive on your site. You can also use our page slide feature so people can get straight to the content when they're ready.
Lightbox popups, which can appear on any page and temporarily blank out the rest of the content to focus on the optin. These convert very well.
Exit-intent popups, which appear when people are about to leave the site. That's a good time to offer your lead magnet.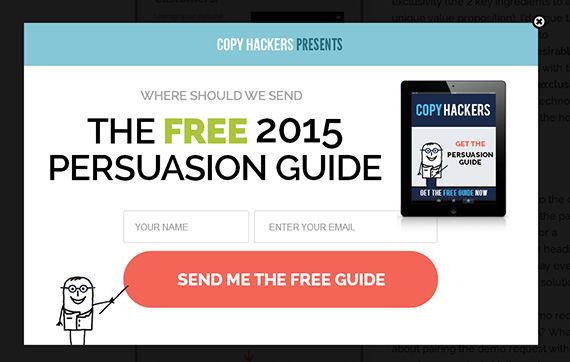 Check out our guide to optin types to see all the options for creating optins for your email marketing campaign.
For best results, put optins in multiple places and choose how they appear with rules and page-level targeting. That cuts down on the annoyance level while maintaining effectiveness.
7. Plan Emails and Followups
Once you know your goals, email type and audience and you've attracted people onto your list with targeted optins, it's time to plan your email marketing campaign. This will give you an overview to use when you start creating the emails in steps #7 through #9.
A good approach is to note down:
Email frequency, which we'll look at below
Type of email, as mentioned in step #2
A rough idea of content
The main action you want subscribers to take (such as signing up for an event, following you on social media, buying a product)
Kuno Creative says that in creating your emails you need to make them timely, relevant, interesting and valuable.
For example, many companies welcome new subscribers with a short email series to help them get to know their products and services.
Asana sends a series of 4 emails. The email subject lines are:
Welcome to Asana
What do you need to get done this week?
Plan your day with Asana
Hit your next deadline
The first is a welcome email with 3 key tasks you can accomplish in the software. Three days later, there's another email asking what you need to get done and encouraging you to start using the product. Two days later, there's an email talking about the Asana dashboard. The series ends with an email two days later, which highlights the calendar view.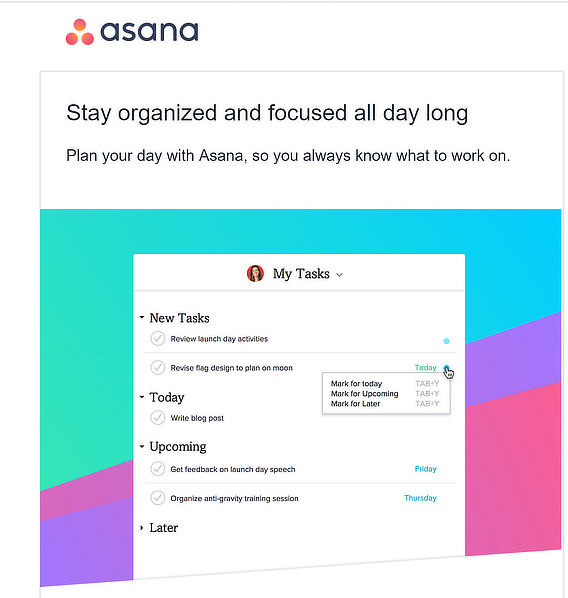 Don't overwhelm your subscribers by emailing too often. That will send them straight to the spam button. Instead, stick to the schedule you've told them about so they know what to expect.
Don't be afraid to ask for subscriber input on email scheduling via a poll or survey. You can also offer an "opt down" option for those who love your emails but don't want to get them as often.
Once you've outlined your email plan, it's time to start writing.
8. Craft Your Subject Line
A good starting point for any successful email marketing campaign is the subject line, which plays a crucial role in getting people to open and click your emails. Like the headline on your blog post, an email subject line has to get attention so people want to go further.
You don't have a lot of words to make an impression, either; Campaign Monitor's data shows that most subject lines range from 41 to 50 characters. Even less of your subject line shows on mobile screens, so it's wise to put the most important parts at the start.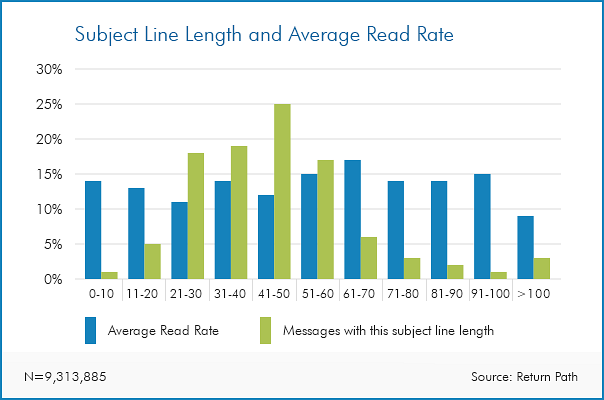 Options for improving your subject lines include:
Telling people what they'll get when they open your emails; no need to be clever or witty unless that's your brand's personality.
Adding personalization, as including people's name in the subject line can keep them more engaged.
Avoiding spam trigger words so your emails make it to the inbox.
Borrowing one of these high-converting email subject lines and adapting it for your own use.
9. Write the Copy
Next, it's time to write your email marketing copy. You'll want to create a hook right at the start that will get people to want to read on.
For best results, keep email marketing copy short, and avoid pitching your offer too early. You want people to get comfortable first.
Address subscribers by name. Personalized emails are more successful. Buffer also suggests to personalize your emails based on need by sending emails that meet different user expectations. This makes them more targeted and more likely to be successful. Some studies show that educating and segmenting your audience will boost your click through rate on emails by up to 50%.
Other items to consider for your email copy include:
A personal story. Being human never hurts a company and often helps people make an emotional connection. Some of the most successful emails we've seen use this technique.
Something of value to your readers. That can be a piece of content, some useful information or the resource you're promoting. Make it clear how this will help them. The example below from SEMrush underlines the potential benefit in the first line of the email.
A poll, survey, GIF or video, all of which are proven to keep readers more engaged.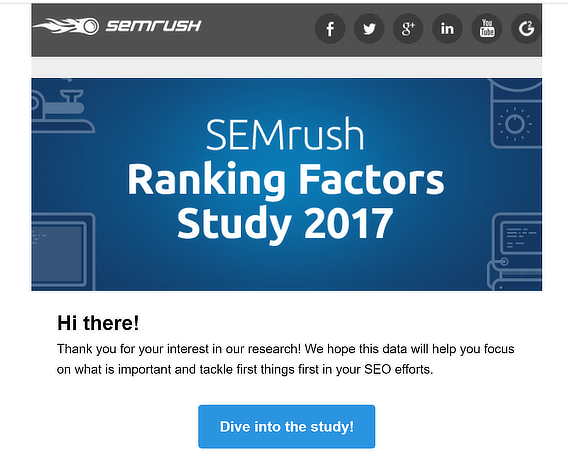 Of course, you don't have to put all of those in every email. Ideally your emails should be short, with only a couple of main points within each one. If you do decide to go longer, make your email scannable.
The last part of your email marketing copy is the call to action (CTA). Your CTA reflects the one thing you most want people to do when they've read your email.
CTAs usually appear multiple times within your email marketing copy. While you don't want to pitch to readers too soon, there'll likely be a CTA near the start, in the middle and near the end.
The best calls to action are short and clear. If you've got your copy right, then it should be a no-brainer for subscribers to click your link.
10. Focus on Email Marketing Design
Email design matters in any successful email marketing campaign. If your emails look terrible, that reflects badly on you, and can make people stop reading. With more people than ever reading emails on mobile devices, it's important to use a responsive email template so your email resizes automatically whether people are reading it on a phone, tablet, or desktop.
Most good emails have more text than images. There's no denying that images make your email more attractive, but know that many people disable images. That means your email still has to work even if people can't see them.
Our tip: avoid hiding information in images, because that's bad for email accessibility. And remember to use alt tags to describe images so people who've disabled them know what they're supposed to see. A good description might make subscribers enable images, which will make your emails look even better.
11. Test and Track
Finally, sending your email is just the first step in achieving email marketing success. To really nail it, you've got to collect data to improve future campaigns.
That means testing everything: design and layout, email marketing copy, subject lines and calls to action. Consider testing emails with different segments and experimenting with email send times, too.
You'll also want to monitor email analytics from your service provider relating to opens, clicks, unsubscribes and forwards. This will enable you to figure out what's working and what's not with email marketing.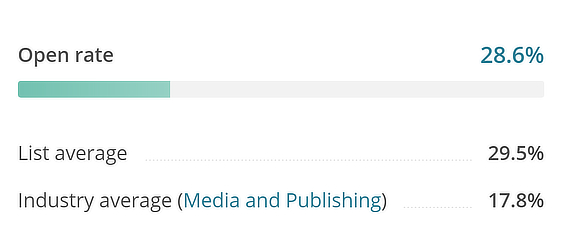 Another issue to monitor is your sender reputation, which affects email deliverability. Use Sender Score to see if there are any red flags that might stop your emails from reaching subscribers' inboxes.
Finally, manage your email subscriber list by attempting to re-engage inactive subscribers, and by removing them if your attempts fail. It's better for email marketing open and click rates to have fewer active subscribers than large numbers of inactive ones.
Now that you know how to run a successful email marketing campaign, check out these email marketing conversion killers so you can avoid them. And be sure to follow us on Twitter and Facebook for more advice on email marketing.
Keys:
how to do email marketing
email marketing sample letter
marketing email template
email marketing tips
best email marketing campaigns 2018
b2b email marketing examples
email marketing tools
email marketing software
Effective Email Marketing Campaign